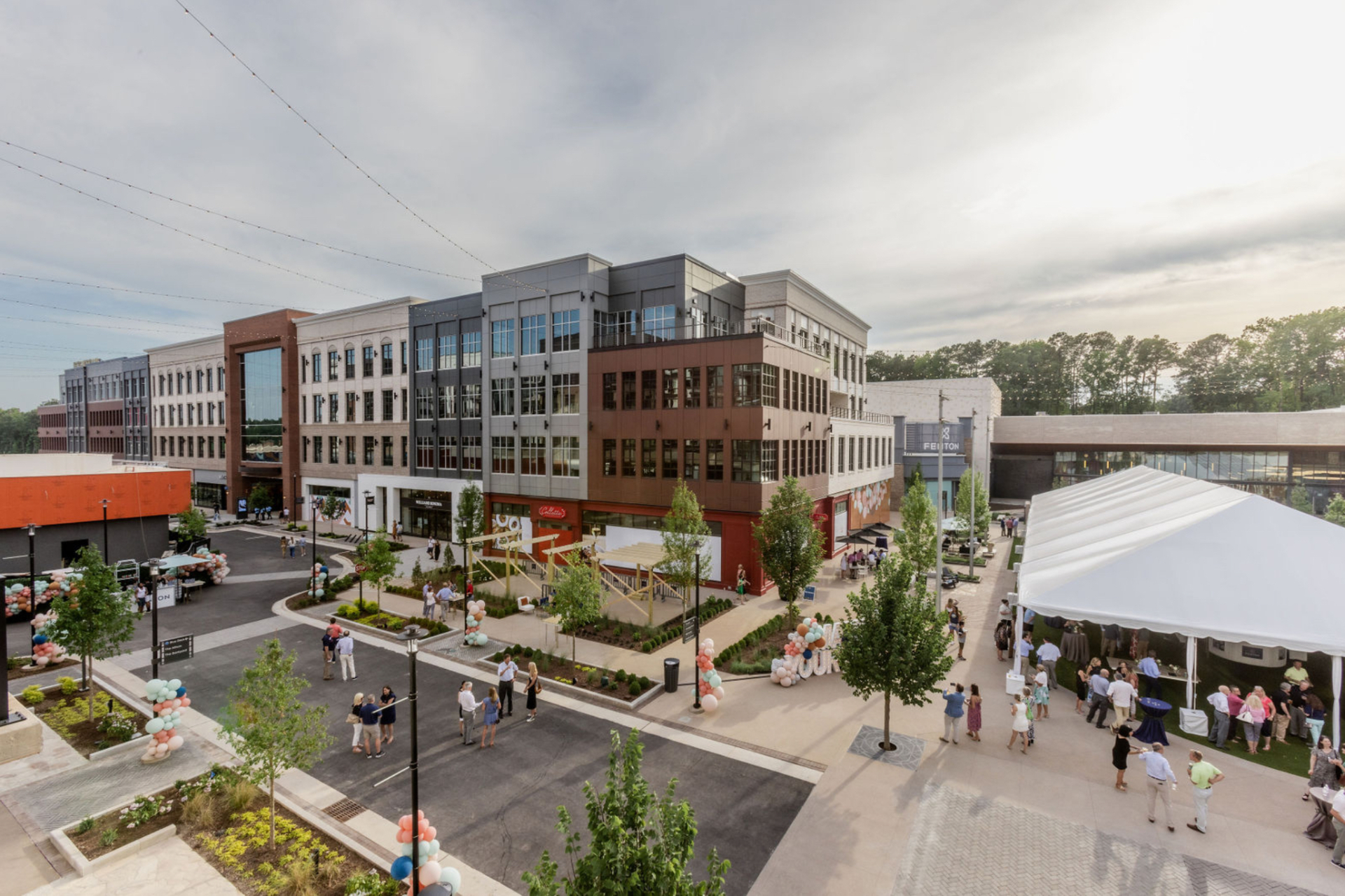 The property will consist of two phases consisting of +/- 68.78 acres of land which will contain approximately 2,100,000 sf of improvements. Phase I of the property consists of 861,793 sf that will be comprised of 348,738 sf of grocery anchored, multilevel retail space, 198,495 sf of class A loft style office, 357 multifamily units and a 175 key-hotel pad site. Phase II contemplates development of an additional 700,000 sf of office, 475 multifamily units, and 76,300 sf of retail. Phase I was completed in Q4 2022 and will reach full stabilization in 2024.
Projects Highlights
Fenton Town Center is located at the center of a diversified, innovation-based economy that is anchored by world-class universities, well-managed state and local government, top-ranked hospitals and many of the nation's leading technology, biotechnology and pharmaceutical firms. The town of Cary is the third largest city in North Carolina's Research Triangle. Multiple businesses have made investments in their Cary locations in recent years, including MetLife, HCL and Dude Solutions who together added over 3000 jobs.

The property is strategically positioned off Interstate 40, State Route 1415 and State Route 1011 and is accessible by the "Go Cary" bus system. 119,000 vehicles per day transit on I-40 and 20,000 on Cary Towne Blvd, providing unparalleled visibility for the project.

Cary's population has increased over 60% since 2000 and median household income is nearly $100,000 per year. There are over 10,000 businesses and 119,395 employees within a 5-mile radius of the property.

Allison at Fenton achieved a WiredScore Gold rating for its digital connectivity

Office achieved a WiredScore Platinum rating for digital connectivity—Platinum proves that a building meets exceptional standards for the quality of its wired infrastructure.

Office: Total employment in the Raleigh-Durham metro area grew by 4,200 jobs during Q4 2022. In industries reliant on office use, employment expanded by 2,400 over the same period. The Cary office submarket absorption rate is projected to offset newly added inventory, causing the submarket vacancy rate to decline to 16.6% by the end of 2024 and effective rents to increase by 2.4% on an annualized basis through 2023 and 2024.

Apartment: Net new household formations in Raleigh-Durham were 4,760 in Q4 2022.The Cary submarket experienced twelve consecutive monthly gains in asking rents, for a cumulative total of 10.8%. On an annualized basis through 2023 and 2024, effective rents are expected to increase by 2.4%.

Retail: Over the next twelve months, developers are expected to deliver a total of 101,000 sf of neighborhood and community shopping center space to the submarket. The Cary/Southwest Raleigh submarket is forecast to absorb 87,000 sf. Annualized rent growth is anticipated to average 3.1% during 2023 and 2024.

Status
Delivered Date Q4 2022

MF construction complete March 2023

Location
Cary, North Carolina